Nutritional Index
collaboration between Emmaline Zanelli & Kurt Bosecke
1.5 hour live performance, two channel video work, mixed media image works, 2021 - 2022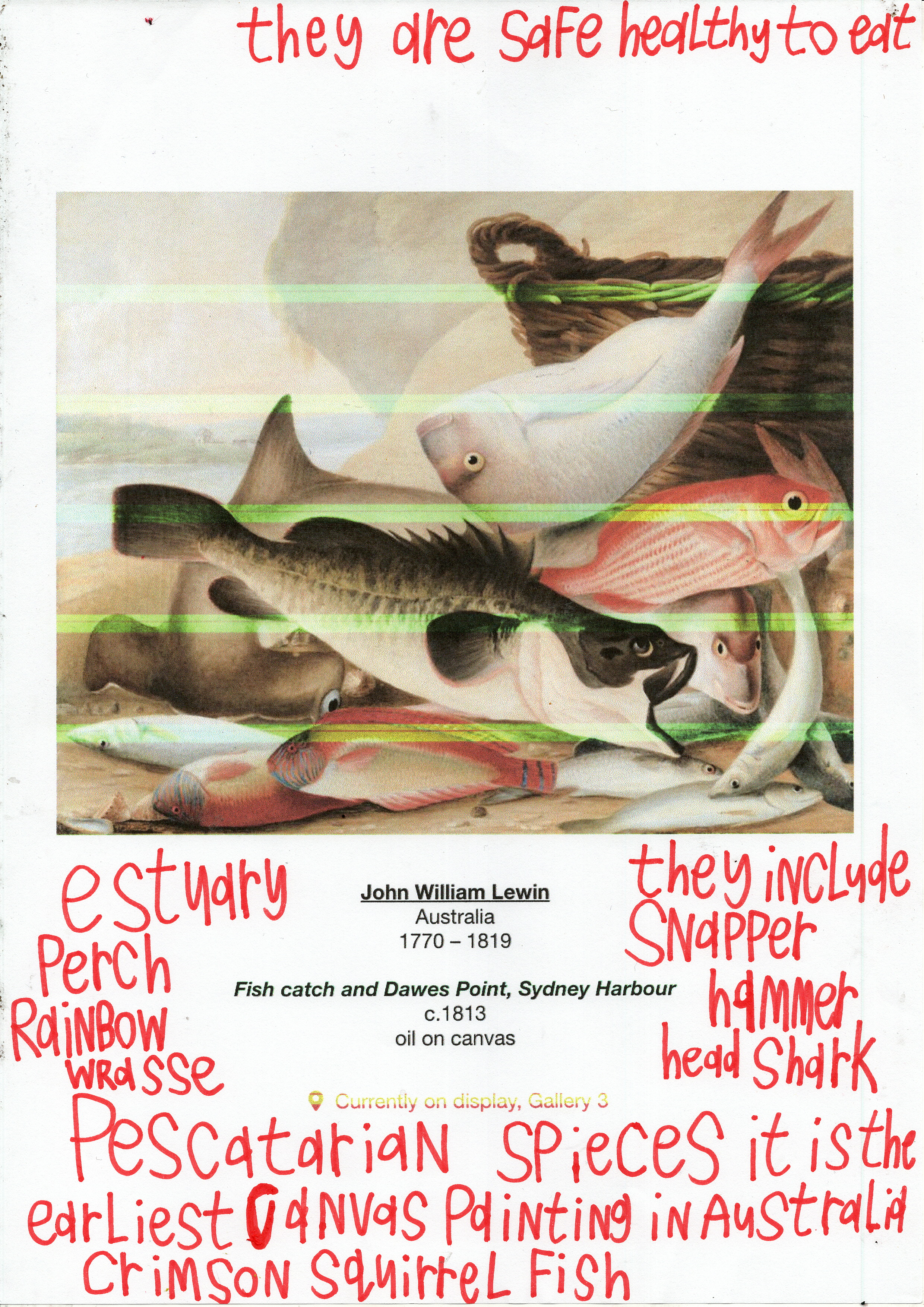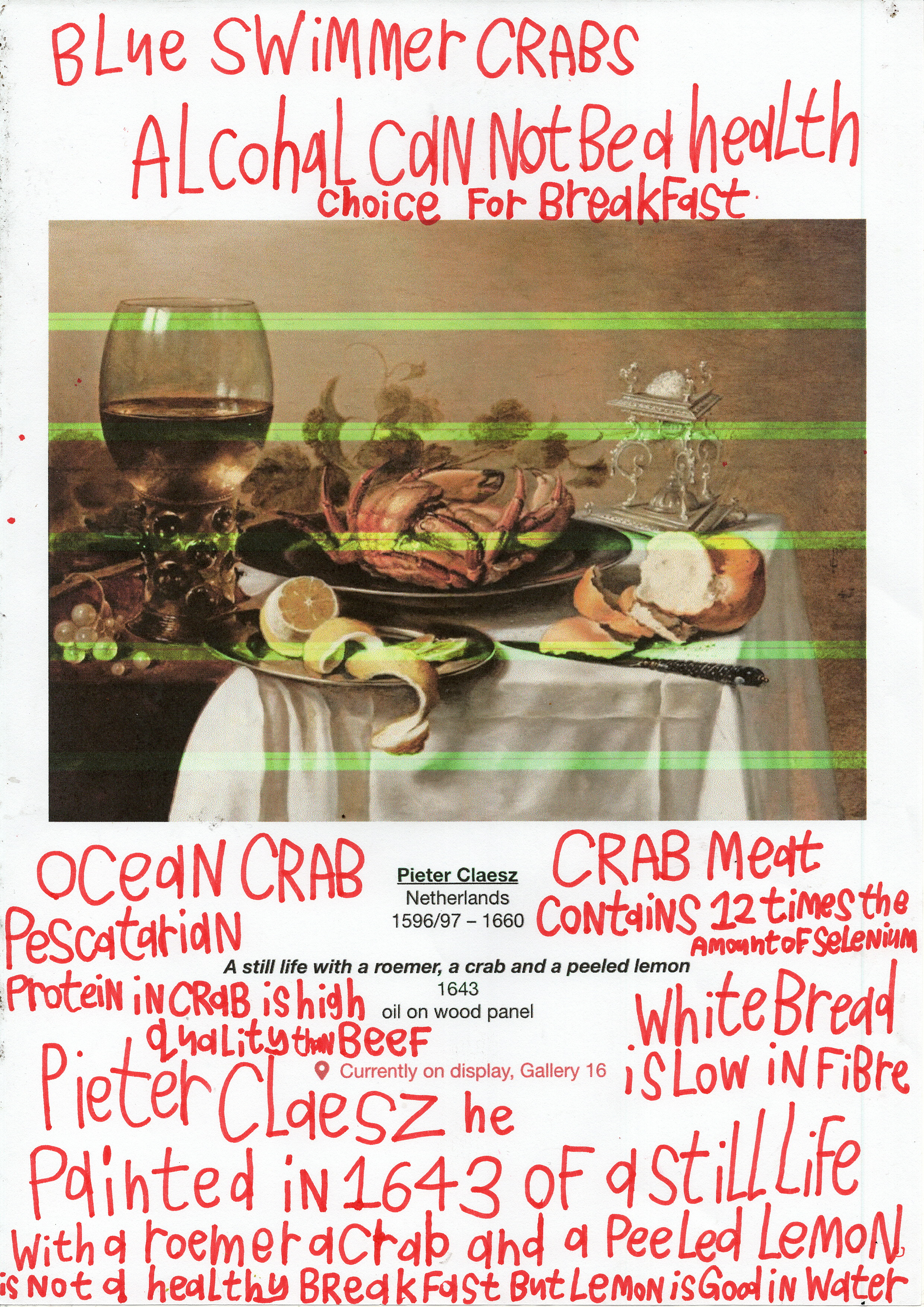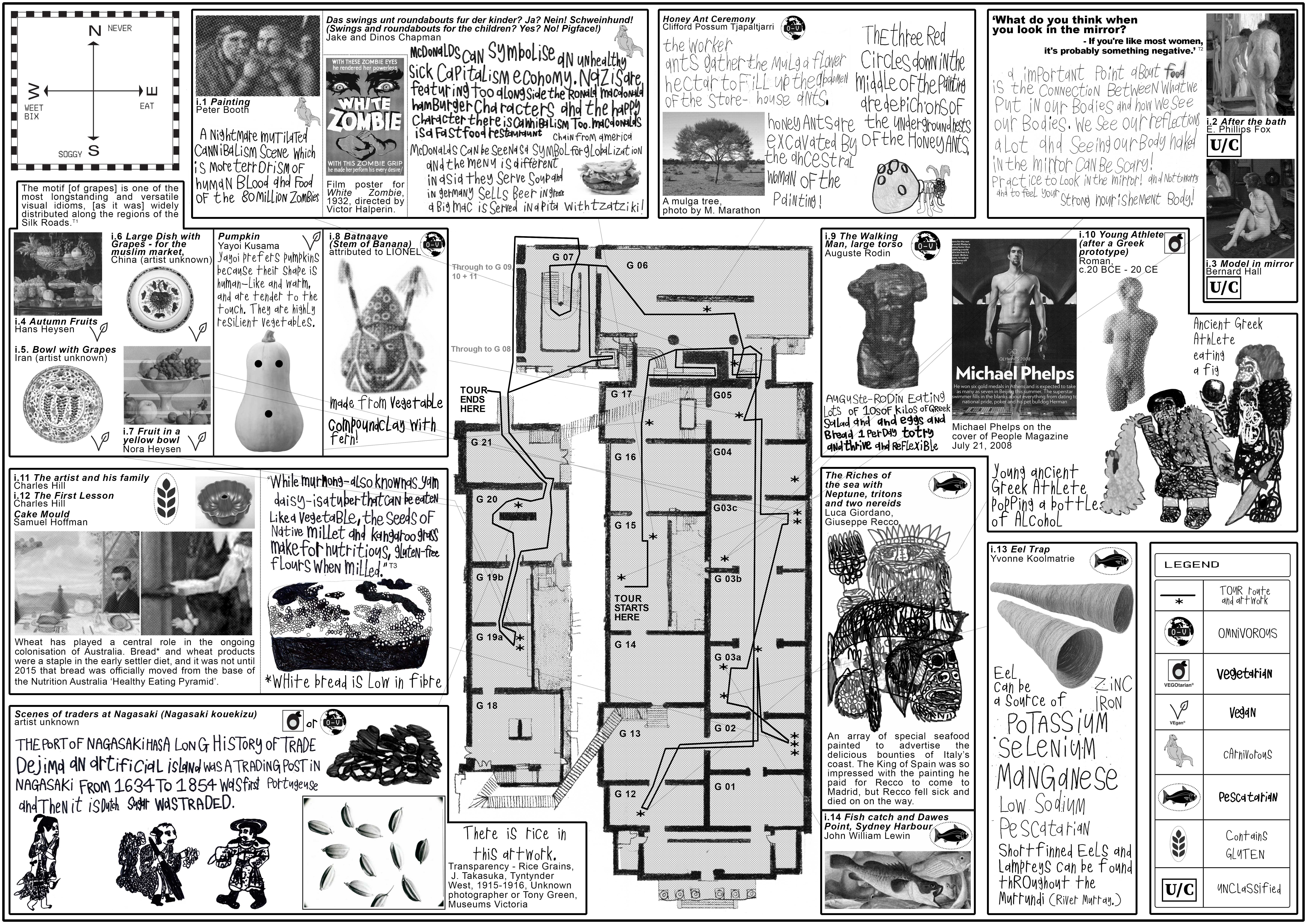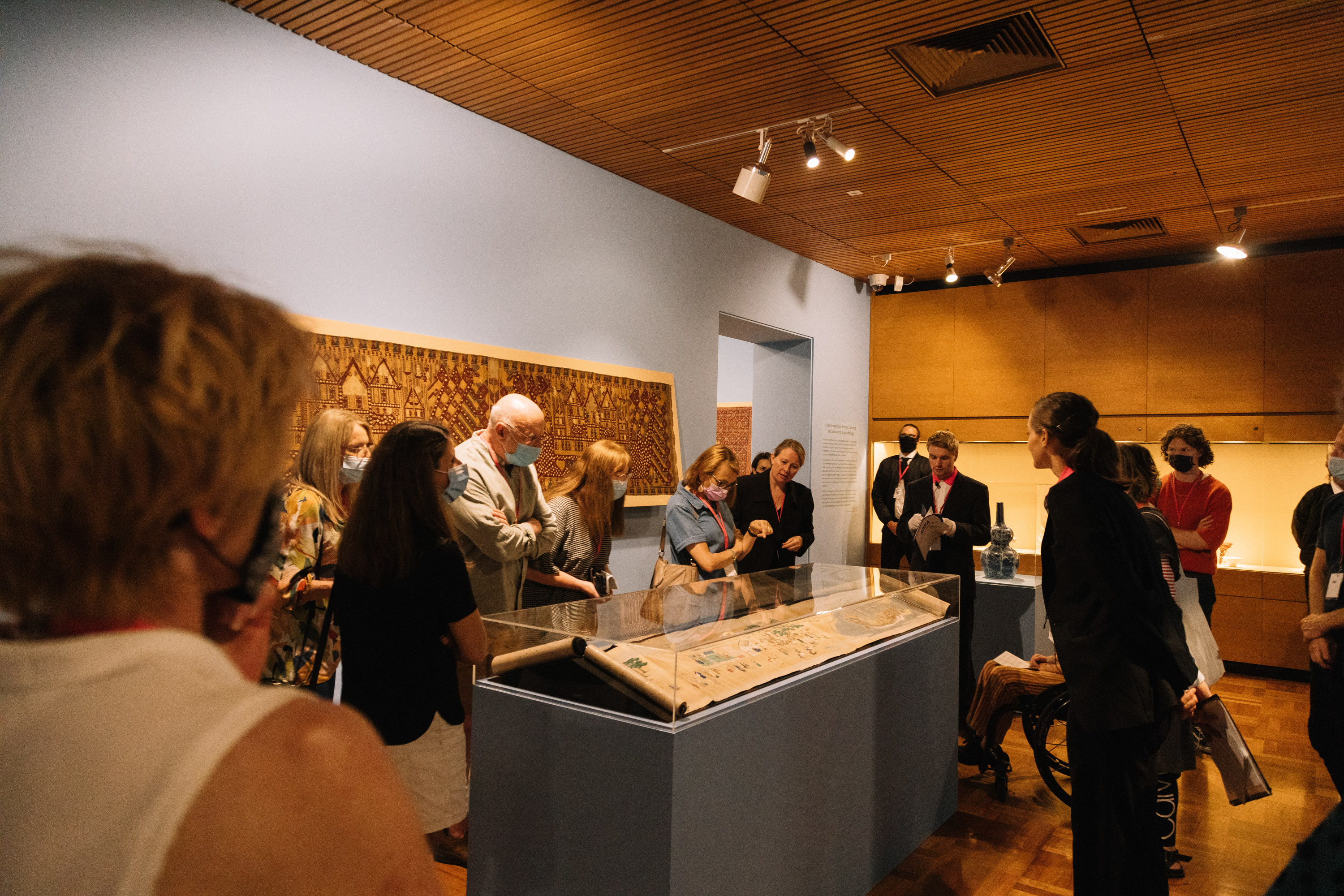 Nutritional Index was part of a broader project curated by Belinda Howden, titled Reaching Out wherein Tutti Arts partnered with three South Australian cultural institutions to facilitate three pairs of artists to respond to their collections. Kurt and I were one of these pairs, and we were invited to create a new work in response to The Art Gallery of South Australia (AGSA) and their permanent collection.

Over 12 months, Kurt and I had behind-the-scenes access to understand the inner workings of the gallery, meeting and interviewing many different staff members including curators, librarians, volunteers, installers, builders and security staff. This, paired with Kurt's interest and rich knowledge of food and nutrition, guided us to first develop a performance work called Nutritional Index, a series of mixed media images, a map, and a two channel video work.

The performance work sees Kurt and I play hybrid characters – nutritionists and art historians from the Australian Bureau of Cultural Dietetics Eating For Good Health (A.B.C.D.E.F.G.H.).



Throughout the tour Kurt and I speak to several artworks on display within AGSA's galleries, using nutrition as a lens through which to understand the works in a different light. Audience members are issued with level 3 security clearance lanyards upon arrival, and we are accompanied by 4 security staff (played by members of The Bait Fridge), and after 1 hour of moving through the galleries, we finish the tour with a Nutribullet smoothie using ingredients referencing the artworks throughout the tour.

Following the tours, Kurt and I are working with a third collaborator, Eloise Holoubek, to make a video work relfecting on our time working in the collection, called The Impressive Vibrant Fantasy Buffet: Five Essential Rules to Achieve a Rodin Torso in Under Two Months (see below for a preview). The two channel video work was featured at the Art Gallery of South Australia during SALA Festival in August 2022. The video work was awarded both the Digital

Nutritional Index was supported by Tutti Arts, the Art Gallery of South Australia, The Department of Premier and Cabinet, and the Adelaide Fringe Festival. I would like to express my deepest thanks to project curator Belinda Howden, for her amazing efforts and support in the development and delivery of this work.


Dynamic Drills

2019 - 2021

Dynamic Drills proposes that memory is a group exercise, and furthermore, it is work. Drawing on my paternal grandmother, Mila Zanelli, and her history as a manufacturing worker, these videos experiment with parallels between the aesthetics of manufacturing, the functions of memory, and the relationship of the body with the machine. Mila has been a manufacturing worker across multiple different industries including the car, wool, poultry and fashion industries, and her mother also worked in manufacturing, in a mother-of-pearl button factory. A foundational element of all manufacturing is repetition — many people performing the same or similar tasks all at once, a mass choreography of pushing forward, pumping out, following patterns. Over the course of a 30-minute montage, Mila and I engage in combinations of functional, futile and symbolic work and exchange. Dynamic Drills suggests a procedure for formulating and distributing legacy using the home as a factory.

The metaphor of the machine plays a central role in the project. Placed in contrast to our DIY constructed domestic work and training zones, are voiceovers of my grandmother reciting appropriated texts taken from Italian Futurist manifestos. The early 20th century futurists dreamt of (and fought towards) a hyper-mechanised future, where mass industrialisation and technological advancement would mean that the gap between the human and the machine would dissolve, and people could abandon the weight of tradition. For my grandmother and I, these manifestos have functioned to draw new parallels between the home and the factory floor through the absurd metaphors of the futurists, but have also helped us to find conviction in our beliefs in the certain aspects of memory production, transfer, and training that cannot be explained through the metaphor of the machine, and instead require more abstract interpretation.

Themes of labour, family relationships, and the connection of the body and the machine were fundamental from the beginning of Dynamic Drills. However, more recently the work has also increasingly brought up questions surrounding care, ageing, worth/value and support, which have begun to guide the project.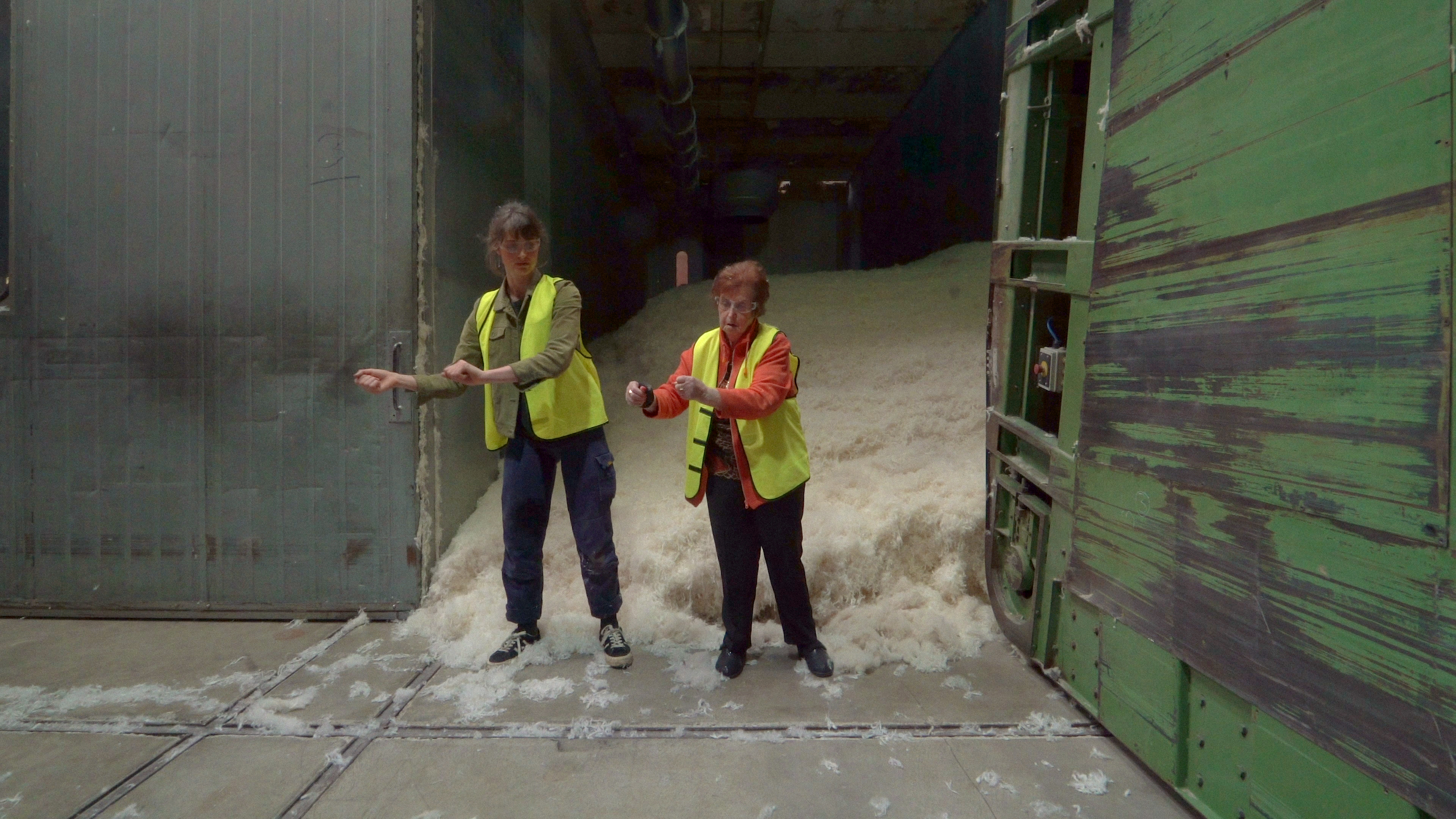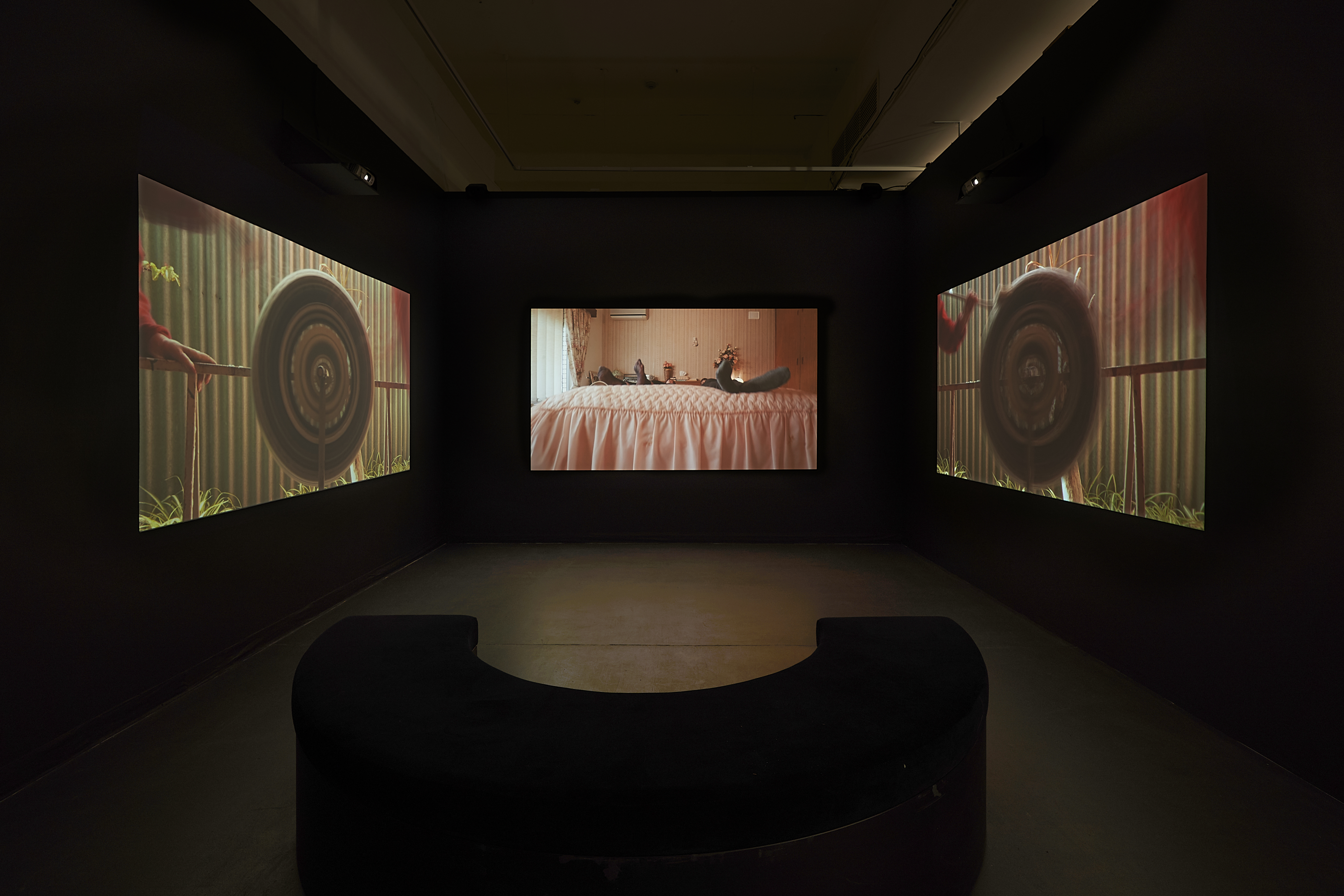 Installation view at ACE Open. Photo by Sam Roberts.


Dynamic Drills, 3 channel video projection with sound, 31 minutes 52 seconds. Please note this video compiles 3 channels into one video and as such the subtitles become very small in this Youtube version. You will need to go full-screen to be able to read captions - and it can be difficult on a phone.

Installation view at Meat Market Stables. Video by Angus Scott.




Crash Factory
2021

8-minute two channel video with sound by Mat Morison
Edition of 80 vaccum-sealed cuttlefish ink photopolymer prints on egg pasta







To Resound, unbound
Curated by Jack Willet

Consider the artist as a surface, possibly solid and flat like marble, or soft and rippled like
foam, even a combination of the two. All surfaces resound or echo in some way, perhaps
softening or distorting, directly reiterating or if the surface allows there is the potential for
total absorption. To resound, unbound explores the possibilities of this resounding, seeing
the artist adapt or unbind that which comes to them, molding it to their artistic will, to then
resound it back through artistic expression.
Echoing throughout all four exhibition spaces, To resound, unbound presents a series of new
commissions and significant works from emerging and established lens-based practitioners
from across Australia. This group of eight artists explore themes concerning knowledge,
memory, identity, trauma, representation and time, typically found in both societal and
cultural structures and narratives.
The ways in which the artists engage with these rich themes sees a range of diverse material
outcomes, such as Hootan Heydari's tome of 1,979 plaster-dipped photographs, presenting
shrouded fragments of traumatic (and joyfully familial) memory whose number reflect the
revolution the artist and his family fled. Sanja Pahoki's installation of wallpaper, neon,
photography, video and security mirrors continues this discussion of memory, explicitly
explored through the idea of a "transitional object", while also talking to larger ideas
surrounding transitions and separations, and the parental gaze. These highly conceptual
concerns are explored throughout the exhibition, seeing Callum McGrath working with
musicological presentation to display pages from his anonymous family photo-album
composed of public memorials dedicated to queer subjects and communities, questioning
how queer history and collective memory requires unconventional archival approaches. Sara
Oscar continues this discussion of the photographic archive, using the metaphor of 'ruins' to
look to her colonial past — tracing it through her late grandfather's involvement in
Hollywood cinema in India, Oscar considers its bearing on the male bodies within the artists
family, and finds the trauma of British colonialism in fragments.
Traditional modes of photography have significant representation within To resound,
unbound. In a gridding of photographs across one of the gallery's largest walls, Anne Moffat
explores her maternal grandmother's suffering of late-stage Alzheimer's, a work of duality
that portrays Moffat's experience of watching her grandmother lose her independence and
sense of self while the artist attempted to understand her own. A vast array of images
spanning over 10 years of artist Jessica Schwientek's life further the exhibition's diverse
display of the photographic image. Schwientek presents both silver gelatin hand prints and
colour giclee prints that combine intimate portraiture, empty spaces and abandoned objects,
a collection of mirrors and shadows that are all representational of the self. Video work by
Hannah Brontë heightens the "moving" of the moving image, a work that ebbs and flows —
or swells — with the water that bulges across all corners of the planet, talking of time and the
absorption of one energy transmuted into a multitude of new energies. Here Brontë
specifically draws on the gestations of us — human beings, while also looking at the spherical
nature of the world and the way in which we come through and leave it. While Emmaline
Zanelli uses video to house the making of an image, enlisting her grandmother alongside her comrades to depict a key moment in Futurist history: Marinetti's car crash, here rendered
through a domestic conveyor belt on egg pasta with the assistance of cuttlefish ink.
The remarkable diversity of all artistic elements — medium, concept, experimentation,
research, fabrication — reveals a group of artists that are truly immersed in their subject
matter and the optimal ways in which a myriad of themes can unbind themselves. To then
resound anew, each echoes across CCP's spiraling chain of galleries as though through a
Medieval circular trumpet; each work produces a "buzzing" that triggers a standing wave
vibration within the space, extending outwards as a holistic representation of new creative
structures and narratives.

——————————————————————————————————————————————

Emmaline Zanelli's newly commissioned video work and accompanying prints are an extension on her recent artistic proposition that memory is a group exercise, and furthermore, it is work. Titled Crash Factory (Dynamic Decomposition) in reference to Futurist Umberto Boccioni's painting of the same name, in content the video work — which documents the printing of an image — directly links to the moment the Futurist ideology really sparked, when Filippo Tommaso Marinetti crashed his car in 1908. The production of Zanelli's photograph sees the artist's grandmother, Mia, and her friends working together in a suburban dining room to create multiple copies of this key Futurist image onto sheets of pasta using an etching press. By considering parallels between aesthetics of manufacturing and the mechanics of memory, and proposing family legacy as a form of collective repetitive production, Zanelli's work is distinctly misaligned with the violent prophecies of the Futurists, serving to instead heighten the relationship between the domestic and the industrial.



This work was commissioned by The Centre for Contemporary Photography for To Resound, unbound, an exhibition curated by Jack Willet featuring work by Hannah Bronte, Hootan Heydari, Callum McGrath, Anne Moffat, Sara Oscar, Sanja Pahoki, Jessica Schweintek & Emmaline Zanelli.






Semaphore

November 2022 - January 2023
Solo exhibition at Goodbank Gallery,
McLaren Vale, Kaurna Country
Water Meter Reader

Project developed during
Sauerbier House cultural exchange residency program,
Port Noarlunga, Kaurna Country
September - December 2021
See here for works catalogue
In thinking of the pipes beneath us, the intricate dark systems dug into building foundations and land which take and deliver the precious resource, the concept of 'solid ground' is disrupted — the architectural hollows in the ground beneath us trickle and flow and pulse and burst with parts of us.

Water Meter Reader is influenced by my father and younger brother's work within the industry of water. Responding to their respective careers, this body of work extends upon my interest in themes of labour and production, as well as working with family members. A mix of sculptural and photographic works are guided by information about commercial management of domestic household water and waste in South Australia.


The photographic works developed during this residency are photograms of designs inspired by footage I saw over my dad's shoulder whilst he was on work a Zoom meeting showing the dark and wet insides of drain pipes, taken by remote control roving cameras, using the fumbling unlit wetness of the darkroom process to further imagine the interior view of drains. The pipe, the hollow worm, the waterslide, the dirty drain, the escape route, the kinked hose, the tree root weaving fingers into ceramic passageways…
The sculptural element of Water Meter Reader is a water feature, using mixtures of plumbing and irrigation fittings and pipes, made in collaboration with my brother along with artist/poet/gardener Banjo Weatherald and artist Kaspar Schmidt Mumm.

Fountain of 4 Drains reflects on the iconic fountains of Rome which can be found listed in order of beauty on many "Must-See" travel blogs. The famous fountains of Rome were designed and built to provide fresh running water to the people of the city, and their designs feature epic fusions of deities and aquatic life in honour of the sacredness and perhaps magic of clean water.

In our water feature, we have — instead of depictions of deities and sublime animals — used a variety of unremarkable and recycled materials used in domestic and urban water usage, in an attempt to elevate the central role of these objects in providing us with water in our domestic lives. Fountain of 4 Drains is a cyclical flow, using 3 fish-pond pumps to move in both a cyclical figure-eight flow and a second looping drain into 3 buckets, giving the illusion and sound of a plentiful supply and flow but ultimately pushing the same few hundred litres over and over, as is typical of household water In making this, we were thinking about the illusion of unending supply, and wondering what our future attitudes towards the magic of urban water systems might be.





︎︎︎Footage from roving drain cameras in Adelaide.
︎︎︎Documentation of Fountain of 4 Drains, water feature made from mostly recycled irrigation and plumbing materials.
Made in collaboration with Louis Zanelli, Banjo Weatherald and Kaspar Schmidt Mumm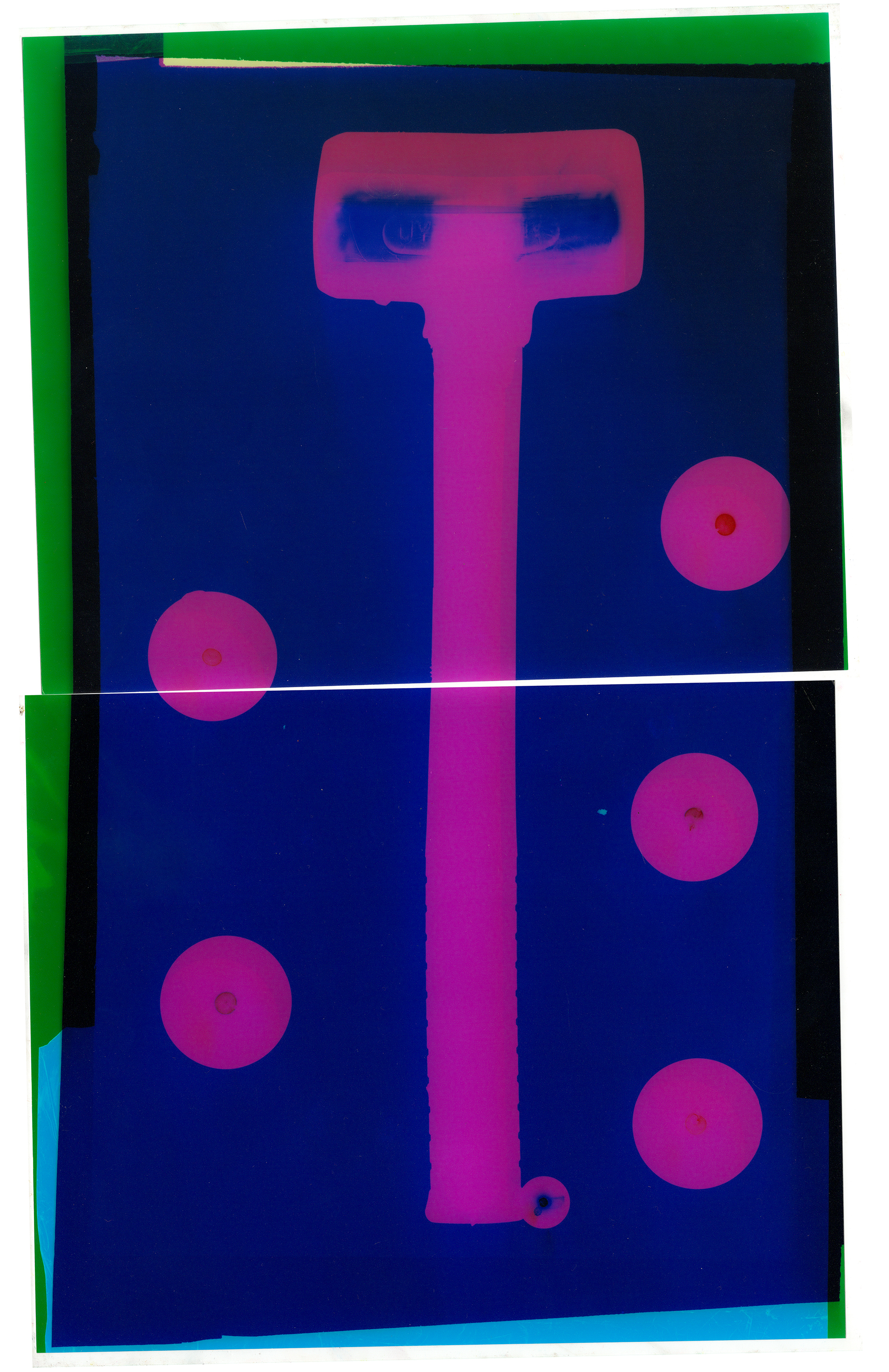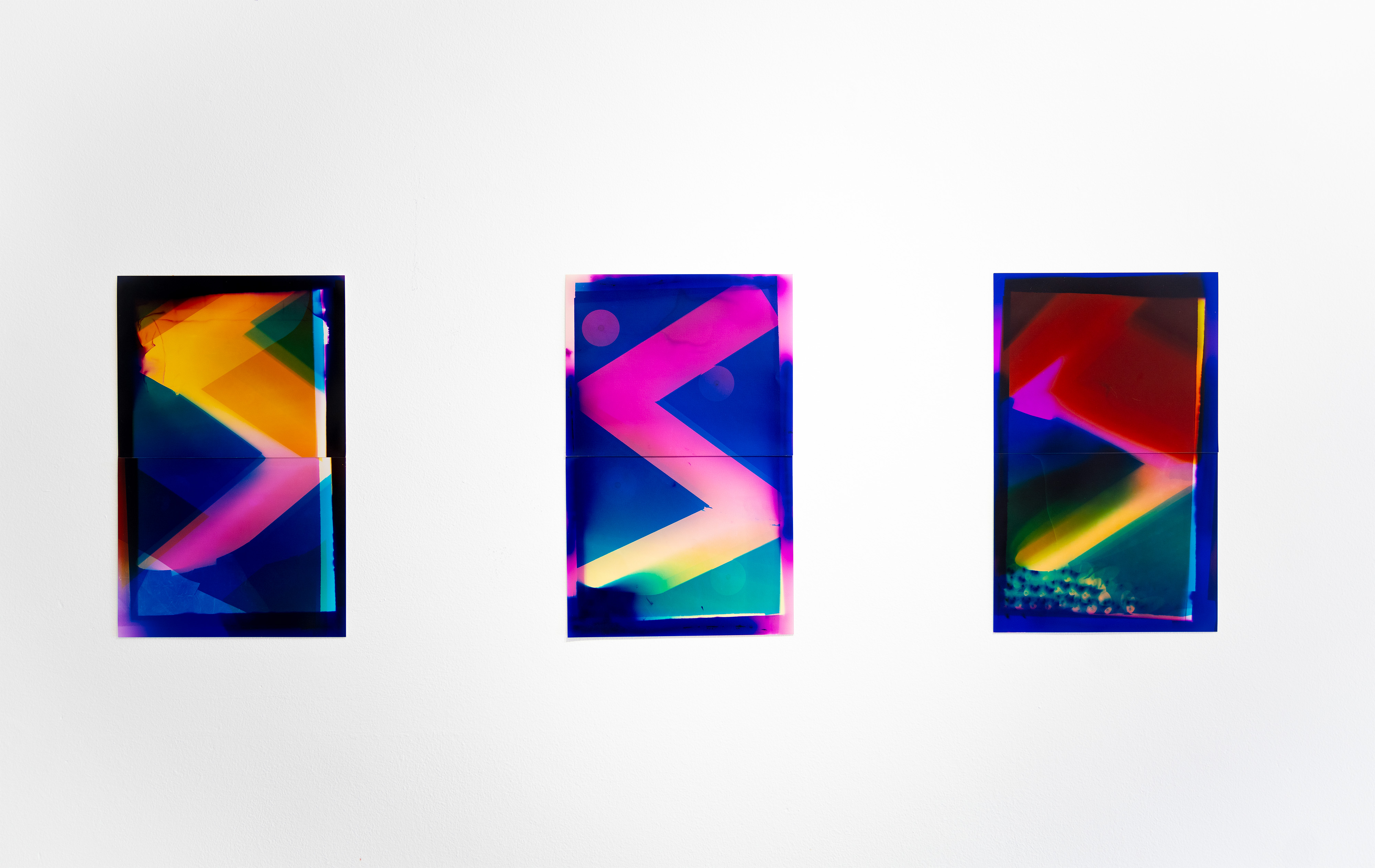 ︎︎︎ Back to projects homepage